Been playing a 1966 Fender Electric XII for almost a year now. Really enjoying it. I got the Curtis Novak replacement pickups, which are a real improvement imo and I just love the neck. The longer scale and 7.25" radius is perfect for a 12 string.
Only one problem. As opposed to a lot of other 12s, the strings of each pair are very close together. It's not really a problem for the E - A - D - G strings, but on the unison B and E strings, each pair are so close together, when you pluck them, the strings buzz against one another and totally buzz out almost like fret buzz. I can tell it's not fret buzz because when you play one at a time it's clean, but when you play the pair they buzz. Happens every time and it really kills the jangle and almost makes it sound like a phaser or something, not good.
It's easy to fix at the nut because you can just cut a new nut with spacing exactly how you want, but at the bridge it is a little bit different. You can see there's no way to space the strings differently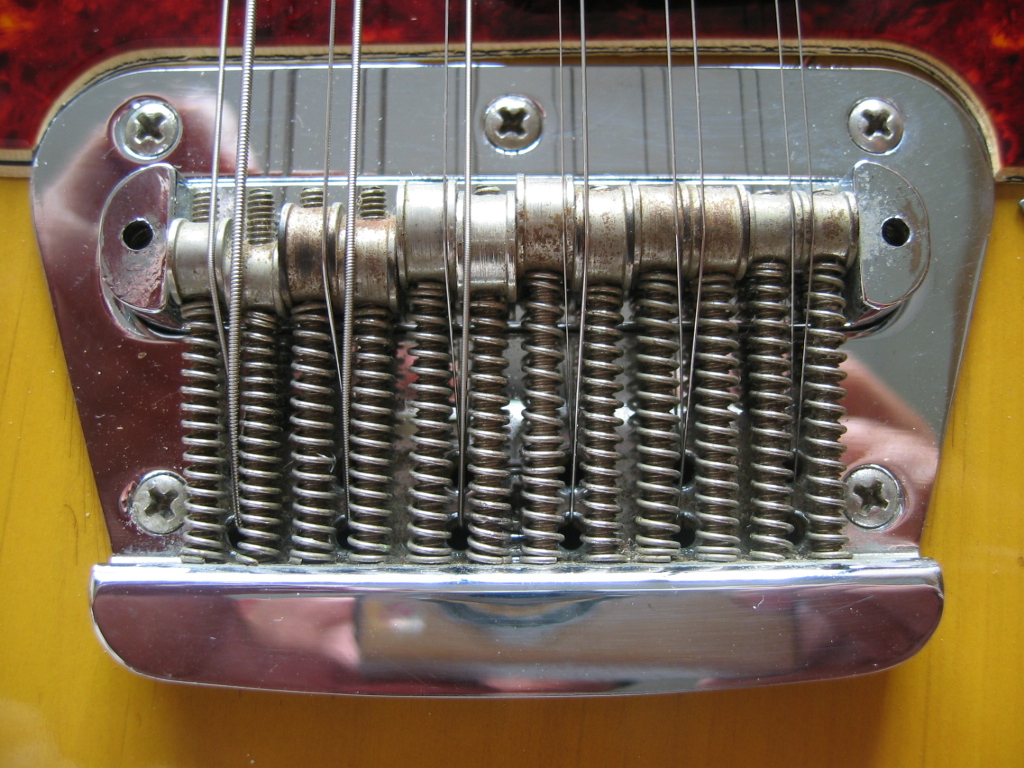 My local shop said the only thing they could think to do is to remove material from the insides of the posts on each side of the saddles (near the holes where you adjust bridge height), which would create some space, and then placing spacers between the desired string saddles to space the strings more. I am obviously very apprehensive about permanently altering the bridge. Besides I don't think there is enough material to remove before you hit the holes and I also think it would just look shitty. The other idea would be to remove material from the outside of a saddle piece itself so you could put a spacer on the other side, which would be much more subtle but still not ideal. Tiny spacers could easily run away when you have to re string the guitar.
Does anyone have any other ideas? Is there any other bridge that will fit on the Electric XII? It's a very unique design, so I somehow doubt it.
Can I buy any of these components second hand and mod them however I want without worrying about messing up the original?
Thanks.