happy guitar story.... back in 1982ish I wanted to start taking guitar lessons and at the time had a Teisco-type strat copy, as many know without a lot of attention to setup these guitars can be quite discouraging to learn on... so some buddies and I were checking out a local NW Houston music shop one day and one thing lead to another I bought this guitar on lay-away and signed up for lessons. Each lesson they would pull the guitar from the back. Don't remember why this particular one struck me ... probably the thin finish/natural wood and that it wasn't a les paul or strat shape? After it was paid off had the tremolo system installed during some dive bombing heavy metal infused confusion!....Years later when attending college at Tech in Lubbock an individual decided they wanted it more than I and relieved me of it s ownership!.... flash forward about 10 years... the Lubbock police contact me that it had been found at a pawnshop ...I had written my TX DL # inside the control cavity so they were able to track me down. However, they then realized insurance paid for the loss and could not return it to me and said it now belonged to insurance company.... disappearing once again into the void. Being a guitar enthusiast I saved a search on eBay several years ago to alert me if one ever pops up...never expecting "The One" to show up... they are quite rare and most that turned up were the 2 pickup model, usually in Europe or Japan and way too expensive. Recently, an ebay notification was in my inbox "Westone Paduak 1 - Vintage Matsumoku Japan Project w/ MMK 45 " ... the image in the email gave me chills... what were the chances another weirdo out there had this brand guitar and put the same trem on it.... there was also an arched shaped scratch on the lower bout where the guitar had fallen over and dug the trem arm in.... I contacted the seller and told them my story and asked if they would indulge my curiosity and see if there was a DL # in the control cavity... Yes! One "buy it now" deal later.. and here it is!!.. full circle... haven't seen this guitar since 1988! It was being sold as a parts/project guitar because the neck has a twist in it... yup, remember doing that to it when I left it in my car while at work for a lesson later on...lesson... don't leave a guitar in a car during a Houston Summer! Have the neck clamped to my workbench now and am working on straightening it... heat... some steam ... and a bit of twist counter action. Hopefully have it back together and in playing condition again soon! weeeee!
...sellers pic... trem+arched scratch= likely match!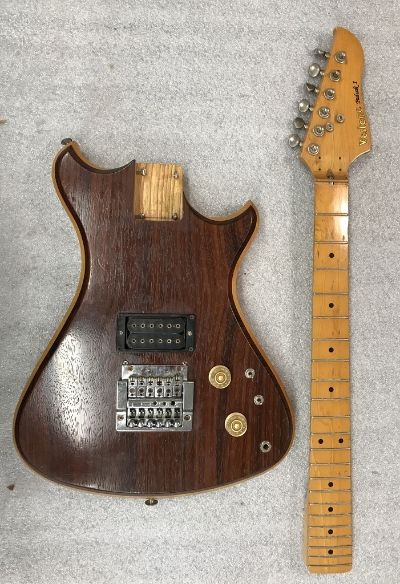 ...all these years thought it was a Kahler when in actuality is an Accutune... some people will say they are Pre-Kahler, others say counterfeit!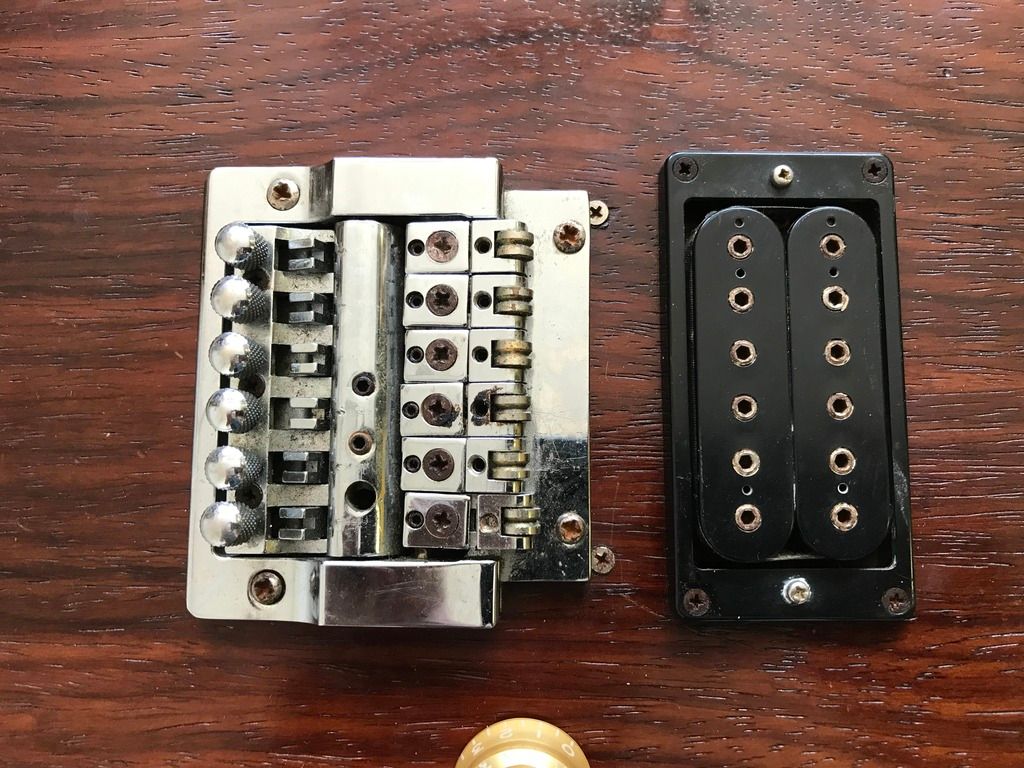 ...where the brass nut and string lock used to be...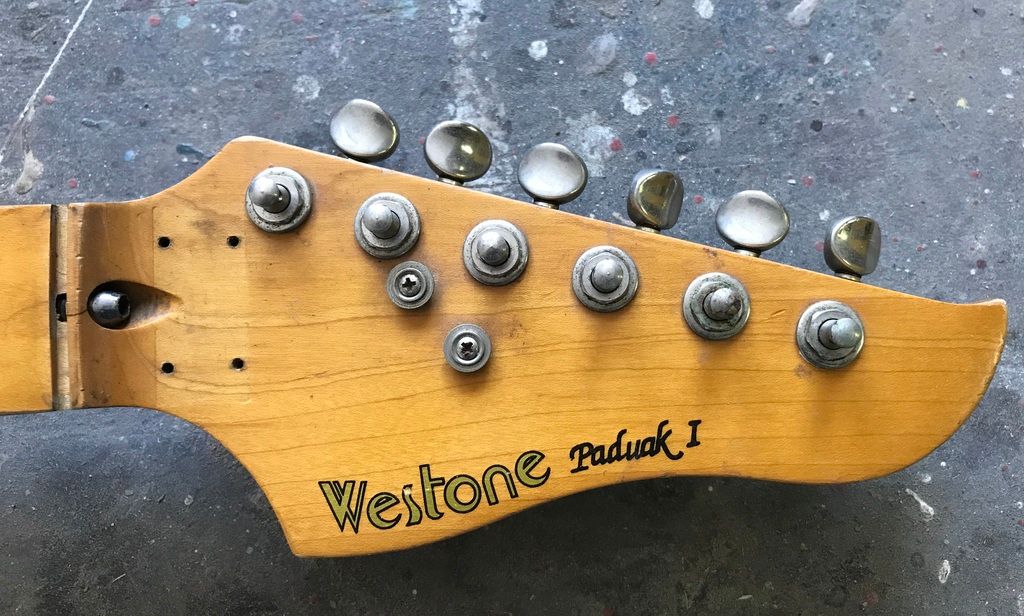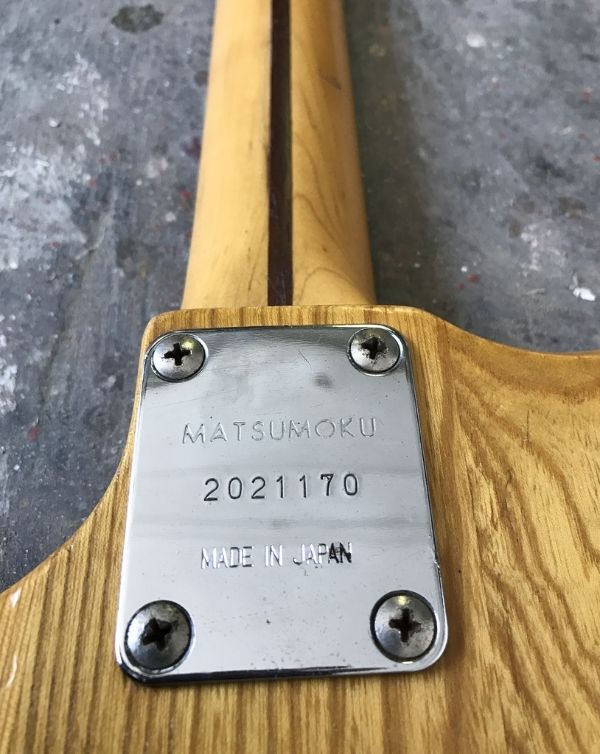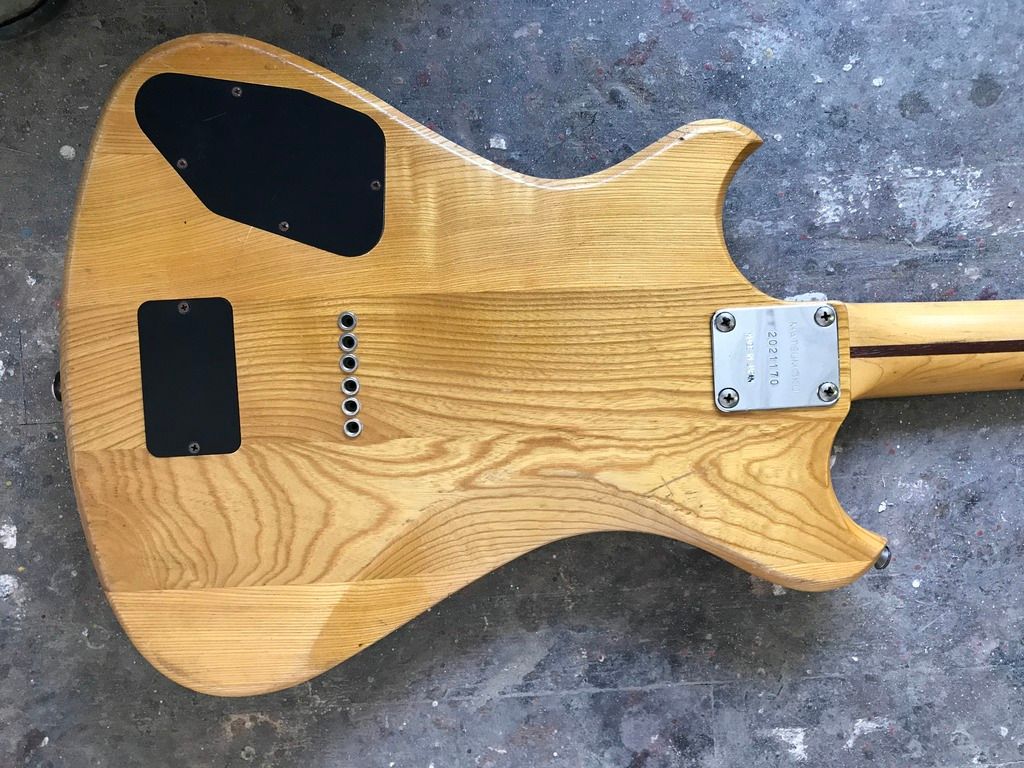 DL# for the win!