PAT. # 2.972.923

Posts: 1477
Joined: Tue Oct 03, 2006 6:31 am
Location: Denton Tx
this is their Jazzmaster Copy.  They are averagly price, around 450 to 500 bucks. The Sunburst has a matching headstock.
http://www.dillionguitars.com/guitar/el ... detail.htm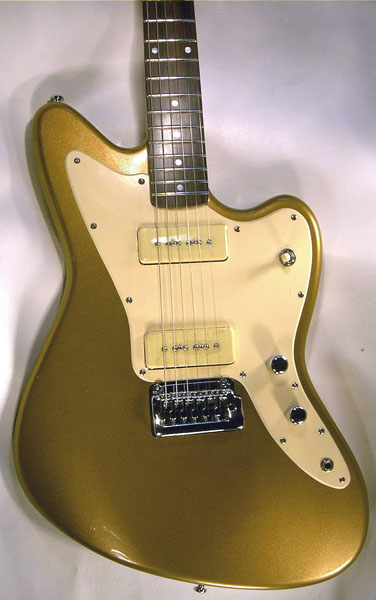 Why should we buy postage stamps? We can make our own.
---
PAT. # 2.972.923

Posts: 109
Joined: Thu Oct 05, 2006 5:55 pm
Location: THE 813
The older ones, I think they made about 50 or 100 had a more accurate Fender headstock.
---
PAT. # 2.972.923

Posts: 333
Joined: Thu Oct 05, 2006 9:17 pm
yea...I think ed roman's carries them...

also, I just hate that nasty tremolo and those cheap ass pup covers, and the headstock looks like ass.
---
Mods

Posts: 12710
Joined: Tue Sep 12, 2006 4:53 am
Location: In My Room
They look OK for the money, but too bad they used the Stratoid trem. It's more like a Jagmaster than JM. I wouldn't mind having one otherwise, especially the early version with the Fender headstock.  They show up on the bay once in awhile. The quality of all the Dillions looks preety decent for the price range.

I like the cream P90s and lack of rhythm circuit (for a change, that is... not in general). 
Q. Are we not men?
---