Hi everyone, this is my first post here, and I hope that i´m posting in the right forum section. Sorry in advance for the long post and my bad English skills, but I will try to explain my problem in the clearer way possible.
So... I bought an already build MJT jazzmaster years ago. The guitar came without rhythm circuit (also wired like a telecaster). After a full setup I was satisfied with the guitar, and didn't checked the wiring, nor the pickups (supposedly AVRI Pickups). Only disturbing thing was the pickup covers, who didn't really fitted the pole piece spacing, but I decided I could live with it...
Last week, a friend gave me a rhythm circuit switch, so I decided to use it to operate the pickup in series/parallel, like this diagram (lets call it D1):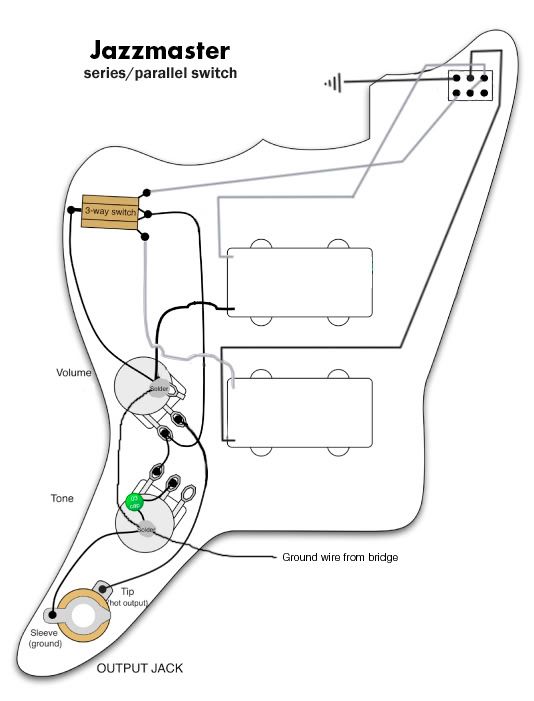 After removing the pickguard, I found a pretty messy wiring and soldering job . I didn´t had enough materials to redo the whole thing, so I just soldered the switch quickly to give it a try. It´s working and it even add a killswitch when neck pu is selected while in series mode, pretty funny to play with, BUT, I realized some strange things that, added with the lot of free time from quarantine, brings my brain to melt

Im used to danelectro middle position serie wiring, which is significantly louder in comparison with neck or bridge pu alone. It´s not the case here. In parallel mode the sound in the middle position isn't that full as well, which make me thing of a phase issue. Didn´t noticed it before as i didnt really used the middle position, but with the series mode it became kind of obvious. Now here come the brain melting thing...
I looked today at a "normal" jazzmaster wiring diagram like this one (lets call it D2),
and realize that the neck pu wires are oriented toward the rhythm circuit. On D1, the wires are oriented toward the lead circuit. Middle position on avri jazzmaster is supposed to be hum cancelling, right? I´ve often read that sometimes pickups has to be switched 180 degrees to solve phase/hum cancelling problems, can someone explain it to me? I understand (at least I guess) that my phase issue can be corrected by switching the 2 wires of one pu, but what with the hum cancellation? Brain still intact? Wait for what comes now

When looking at diagram D2, from right to left (also bridge to neck) the wire color sequence is: Black/White Black/White. If I reproduce it with my pickup, the sequence turn into Black/White White/Black. The black wires on the pickup are not original (not cloth covered) which make me think that maybe they were de-soldered and inverted on one pu?
Here some links to some pics of the pu (tried to insert images directly but it appears that im too dumb for it). Pickup wires correctly attached to Pickup? Pole spacing is 51mm, bevelled and not staggered poles plus black bobin leads me to thinks they could be AVRI 62. Any though on this?
https://ibb.co/VHbrb3v
https://ibb.co/vVkMb2W
https://ibb.co/dg8dhXf
Thanks for your help, and stay all healthy
Tonio