This is some stuff I've been gaining a better understanding of lately, and I thought I'd share. If anyone is smarter than me, feel free to correct anything I say here. I'm just a hack, and have no formal training. Anyway, here goes.
So we often talk/hear about "filter caps" or "smoothing caps" in an amp's power supply. We know that their job is to take pulsating DC voltage from the rectifier and turn it into smooth, battery-like DC voltage. They do this by charging as voltage rises, and discharging as voltage drops.
But there's another way to look at it. This is that the "pulsating DC" is DC but with an "AC component." That means that basically, it's alternating current and direct current mixed together. Realizing that this is so, we can remove the AC component and we'll have DC left over. To see
why
this is so, let's first take a look at a graphic of the output of a full-wave rectifier.
This is a very instructive graphic. You see the alternating current on the left. It's a sine wave, swinging positive (above the zero 'line'), then negative (below the 'line'). When it's rectified, the part that was below the line gets flipped above the line, and what was a sine wave is now a series of 'humps' that never goes below zero. Make sense? We've talked about all this before. If you hooked this signal up to a speaker, you'd get 120Hz hum in the US, and 100Hz hum in some other parts of the world.
Here's where it gets interesting. Now look at the 'green bits' of our rectified signal. Imagine we drew a line right through the middle and made this the "new zero." It would look something like this: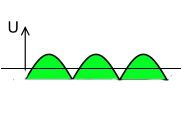 Well, it looks almost like a sinusoid, but the 'green' is in the wrong places, so let's fix that.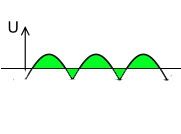 That's better! Now this is interesting. It looks sorta like our sine wave from before, except kinda pointy on the bottom. It almost looks like a triangle-shaped wave that has had its tops rounded off, or soft-clipped... but only on the top. THIS is what it would look like if we subtracted ALL DC from the rectified signal and were left
only with the AC component
. Put another way, our rectified, pulsing DC is just THIS waveform, but
offset
in the positive direction by a pretty large amount. Now stay with me, I'll get to this in a second.
When dealing with AC signals, there's a name for this phenomenon--appropriately, it's known as "DC offset." This is when you add some DC to the AC, and it shifts the whole wave toward the positive direction. In audio, this happens occasionally, and is a "nasty..." it happens on accident, and it can wreak havoc on headroom, and sometimes gear.
Our pulsating, full-wave rectified DC is really just the AC waveshape shown above with a LARGE amount of DC offset. Does that make sense? Basically, one way of looking at it is that it's a bunch of DC and a bunch of AC added together, and it looks like our rectified signal on the right of the first picture above.
What we want is smooth battery-like DC, so we want to remove all the AC component and JUST leave the DC. How do we do this? same way we remove frequencies in audio... with EQ filters!
That's right, your power supply filters are really just specialized EQ filters... in this case low-pass filters.
Let's look at the schematic for a low-pass filter. This is an EQ filter that "allows low frequencies to pass" but blocks high frequencies. It looks like this:
It's just a resistor and a capacitor. Simple. Here's what it does to alternating current (remember that audio signal is alternating current):
The higher the values of the components, the lower the "corner frequency," or "cutoff frequency." This is the frequency at which signal is attenuated 3dB. Above this frequency, AC signal rolls off at 6dB per octave (AKA 20dB/decade), and below that frequency, it remains untouched. Your guitar's tone control is a variable RC low-pass filter just like this. Its corner frequency somewhere pretty high up in the audio range, where it's useful in that application.
Now look at ANY schematic of a guitar amp, and you'll see a bunch of these low-pass filters in a row in the power supply. Usually the resistors are moderately high values, and the capacitors are several microfarads. This makes for very LOW corner frequencies... something between about 2 and 10 Hz, usually.
Let's take an example. Look at this schematic for the 5E3 deluxe. The two low-pass filter resistors in the power supply are circled:
the caps are 16µf. The two low-pass filters are preceded by another 16µf cap to form a capacitor input filter, or pi filter. But that's beyond the scope of this.
OK so our resistors are 5000 (5k) and 22k ohms, and our caps are 16µf.
Here's a calculator that you can play around with to find the corner frequency of the power supply filters in your amp. Actually, it's designed to calculate EQ filters for stompboxes, but it works just the same for our application.
http://www.muzique.com/schem/filter.htm
" onclick="window.open(this.href);return false;
Plug in 5000 and 16µf, and you get a corner frequency of 2 Hz. Pretty good. Plug in 22000 (22k) and 16µf and you get a corner frequency of 0.5 Hz. That's REALLY good, except you lose a LOT of power through that 22k resistor. In this case, that's intentional-- it feeds the preamps. In most cases, this is not so good. In this case it works great, because the preamp has to be quiet and considerably lower voltage.
Back in the days of the 5E3, capacitors were expensive in large values. Now, not as much. If we were to use our 5000 ohm resistor (5k) and double the capacitor value to 33µf, we'd get a corner frequency of 1 Hz. Now you may say to yourself "1 Hz doesn't sound like a huge improvement over 2 Hz," but looks can be deceiving. Since these filters roll of at 6dB/octave, and an octave is a doubling of frequency-- moving the corner frequency from 2 Hz to 1 Hz gives you an extra 6dB of ripple attenuation.* Remember that the difference between 10,000 and 20,000 Hz is 1 octave, and the difference between 1 and 2 Hz is also an octave. It's NOT linear!
Now if we're in the USA, our ripple frequency is 120 Hz. If the corner frequency is 4Hz, then we're down 3dB at that point, and we lose 6 more dB with each additional octave. By the time we get up to 120Hz, we're attenuating that frequency many tens of dB. Arrange a few of these in a row and you can get some pretty serious attenuation of the ripple frequency.
Now there's another type of low-pass filter... the LC filter. This looks much the same, but instead of a resistor, is made of an
inductor
and a capacitor. The choke in your amp is the inductor in the LC filter. LC filters have the advantage of having steeper filter orders... like 12dB/octave. They also have the advantage of greater filtering with less power loss (like the power loss in that 22k resistor above). This can give you SERIOUS attenuation, if the corner frequency is low enough. They look like this:
The disadvantage is that they can be very expensive. Inductors are used in many console EQs, and in fact are sought after for their 'sound.' The varitone in a Gibson ES-345 has an inductor in it, and your Vox or Crybaby wah-wah has an inductor in it, though it's a different type of filter (band-pass with a steep "Q"). Lots of speaker crossovers also use inductors in them, to make precisely the types of high-pass and low-pass filters we're describing here. In speaker crossovers, the steeper the slope, the more precise you can get with tuning the crossovers, in many cases. It's actually not too terribly different from what we're doing here.
In our application, basically, it's like we're turning a big "tone control" all the way down to filter out the unwanted signal, in this case 120Hz ripple voltage (and its harmonics). We have two types of tone controls... the resistor-capacitor "guitar tone control" type, and the inductor-capacitor type.
Done properly, this effectively removes the AC component from the pulsating DC voltage and leaves us with ONLY the DC component. We use this clean power to supply the critical parts of our amp. It really goes to show you that there are a few 'building blocks' that are used all over the place. Yes, there are low-pass filters in your tone stack. But they are also in your power supply!
*In guitar amps, it's not necessarily the case that "more is better," though. Sometimes too much filtering can make an amp feel "stiff," because in the "real world," capacitors are not ideal, and part of what we've grown to like about these amps is that they don't always 'hold together' that well when fed lots of volume and bass. So the power supply turning to mush is part of 'the sound' sometimes.