As some of you may know from my droning on about it at various points, I've been all-digital on the amp side of things for about decade now. Kemper was a revelation for me, and gave way to the broader feature set of the AxeFX 3 around 3 years ago.
But lately I've been breaking out of my shell a bit and changing things up. On the guitar side of things, I started aggressively trading so that I could get to know some new types of instruments, and totally fell in love with Gibsons (flying Vs in particular).
That made me realize I had gotten into a bit of a rut on the amp side of things as well - I had been using the same Supro model on the AxeFX as the basis for
all
my tones, which were really dialed in for my Offsets but didn't flatter the Gibsons nearly as much. So that got me to start playing around with new models and cab IRs, which made me realize that it had been so long since I had a true amp in the room that I probably didn't remember what that tone was like at all.
So I started looking at speaker cabs to run my AxeFX into with the cab IRs turned off, and after some great OSG advice, ordered myself a Jensen C12Q to put in an open-back Tech 21 "Power Engine" (SS powered cab) to use with Fendery models on the AxeFX.
That got me looking at other cabs, new and used, for me to stick Celestions into for use with my Marshally patches on the AxeFX. I used a Traynor YCV40WR as my main amp for the decade or so before I went digital, which was a 2-channel 40-watt 6L6 combo with a Vintage 30, and I had its matching closed-back cab with a V30 as well. I know those are sorta love-or-hate type speakers, but I spent so much time with them that they really felt like home to me for the longest time.
So, I figured maybe a 1x12 with a V30 would be a nice thing to have, to regain the "amp in the room" experience on the Marshall side of things.
While browsing local ads, I came across something that I realized was an even better solution. For roughly the same price as a decent 1x12 with a V30, I found...
A
Traynor YCV50B!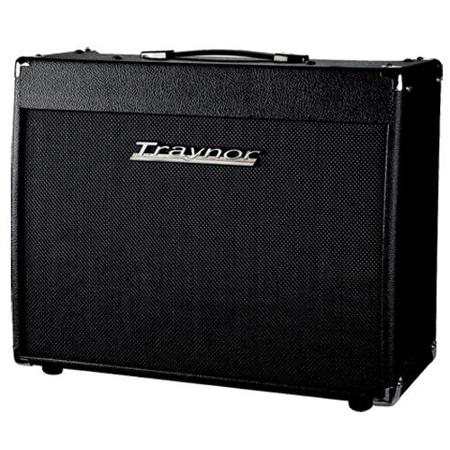 Ok, so if you're not Canadian, that probably means nothing to you. And even if you are, it might not mean anything to you either, so I'll explain.
The Traynor YCV series has been around for a couple of decades and the models all share a bunch of common DNA. The clean channels are quite Fendery, and the drive channels range from decent to good, depending on the model. There were 20, 40, 50 and 80-watt versions with various colour schemes and speakers. My YCV40WR (which stood for 40 watts, Wine Red tolex) was the V30 variant of the 40W model. The only difference from the regular (black) YCV40, besides the tolex and grille cloth, was that it came with a V30 instead of a 70/80.
In retrospect, it makes sense that I hated the regular model when I was shopping for amps back then - that's the same awful speaker I'm pulling out of my Power Engine and replacing with the Jensen.
There was also a 50-watt "YCV50Blue" at the time, and I'll give you two guesses as to its tolex colour. They shared the same 2-channel layout with reverb, but the 40W model had a pair of 6L6 and a presence control, while the 50W model had a pair of EL34 and a master volume. That always kinda perplexed me, since the drive channel already had pre/post gain. So you end up with three volume knobs on the drive side and two on the clean side. The YCV50 also only came with a V30.
Word on the street at the time was that the 40W model sounded like a Fender hotrod amp on both cleans and gain, and the 50W model sounded like a Marshall. In reality, I think these circuits may be identical other than the presence/MV differences and the power tubes. I just think the 50's V30 makes the gain channel sound more Marshally and the 40's shitty 70/80 speaker encourages you to stick to the clean channel.
So that brings us to this model, the YCV50B for "black" as opposed to "blue." Who was in charge of these names? Anyway, the black model is literally just the blue model with black tolex. That's it. Same circuit, same speaker. They just switched colours and had to rename it because they had gone and stuck "blue" in the name of the old one. There aren't a lot of demos online, and even fewer ones of listenable quality, but I found
this one
of the Blue model. It focuses on the drive channel, but the cleans on the amp are really underrated.
Anyway, here are the things I love about this amp:
1) Nostalgia. Yes, I'm counting that as a feature. This amp has the identical shape and layout of my old one and the same speaker. If I dime the master volume, the clean channel behaves and sounds just like I remember. And it's a
damn good
clean channel. I played and A/B'd many an amp next to mine while I owned it, and I honestly never found a clean amp I liked more than my old Traynor.
2) The cabinet. I had started out looking for a V30 cab, and this has a birch plywood open-back cab with a broken-in V30 which is basically worth the price I paid on its own.
3) The effects loop and resulting signal flow flexibility. This gives me the option of bypassing the preamp and just using it as a powered cab for my AxeFX. Sure, the EL34 power section won't be as clean and linear as a solid state power amp, but that's fine for my purposes. I wanted to recalibrate my ears and have the option of isolating variables in my tone, and this is perfect for that. I can run the preamp into the AxeFX and A/B with modeled preamps. I can run the AxeFX into the return, mic the amp, and A/B with cab IRs. And I can set up the clean tone I used to rely on, and A/B it with what I've been using lately.
The biggest downside to it is that it's got a fair bit of what I think is AC hum. It's low-pitched and doesn't vary in any way with the volume knobs on any of the channels. It's noticeable and irksome at quiet bedroom volume and more or less irrelevantly quiet at stage volume. I'll probably eventually look into that. I remember my YCV40WR had a similar issue but with a higher-pitched white noise that also wouldn't vary with any of the volume knobs. It seems that this is relatively common and can be fixed by swapping out a filter cap and/or the rectifier, so I don't imagine it would be pricey (I'm
not
someone who can go poking around a tube amp power circuit, I'm decent at soldering but stick to low voltages!).
My gut feeling is that I'll hang on to this one. It's both useful and fun to have the "amp in the room" experience available again. I regret having sold my old Traynor, even if I didn't have a clear use for it for the longest time. It's really nice to more or less have it back. I think it compares favourably with a lot of the 112 combos out there.