Well I've been on the hunt for a good Mustang for quite a while now. Had dozens (literally) of em over the last decades but hadn't been able to find the one to bond with.
Now I saw this one I the local ads, guy from Berlin selling it at a very fair price. We exchanged some messages and agreed on a quick and easy deal, for even less.
I'd seen it was modded with a humbucker in the bridge, and that the output jack had been moved to the side, like a Tele, so to not have to mod the metal plate, I guess... Oh well. I don't buy stuff to invest or such so fuck it.
I paid, he quickly shipped and a day later (yesterday) it arrived.
More on the heavy side (70s ash, but of course not as heavy as the '76 Jag I got a couple months ago) but okok. And to my surprise, there's another pickup in the middle! I hadn't seen that (black on black in bad pics), cool!
I now figured out the switching, cool that the original Mustang wiring/function with the 2 original pickups was kept, and the 3 way switch of the humbucker works like: off - on (with the other pickups) - on alone. So that's really versatile and useful!
The neck is really narrow but fits my small hands quite good!
I had to flip the pickup ring (was mounted inverted) so I got a look under the pickguard.
Ok that's a butcher job but hey that's her history and you don't see it... And it's less weight too
The single coils are the originals, the humbucker is a stamped pat.no. Gibson (guess 70s or 80s)!
Cleaned the fretboard, gave it a nice setup, will put new stings on it later today.
It REALLY rocks, sounds great!!!
I also like the look of the burst, where the red has faded out like on the Jag and Custom.
Here's a quick pic for y'all.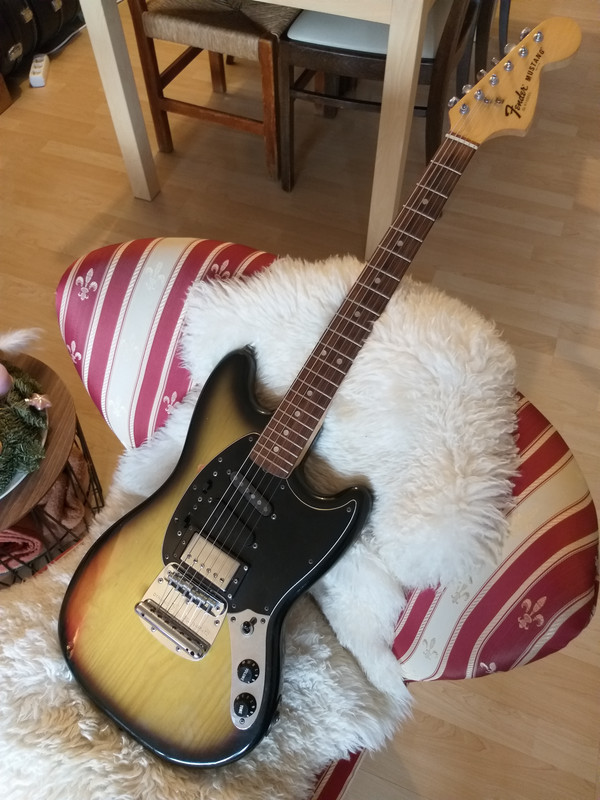 So I'm happy to have found a good Stang that fits me, and I hope this turns out to be the keeper.
Crackwhore Jag and BroncoBlaster approve!