Some of you might recognize this nightmare from the "why did you do this to me" thread: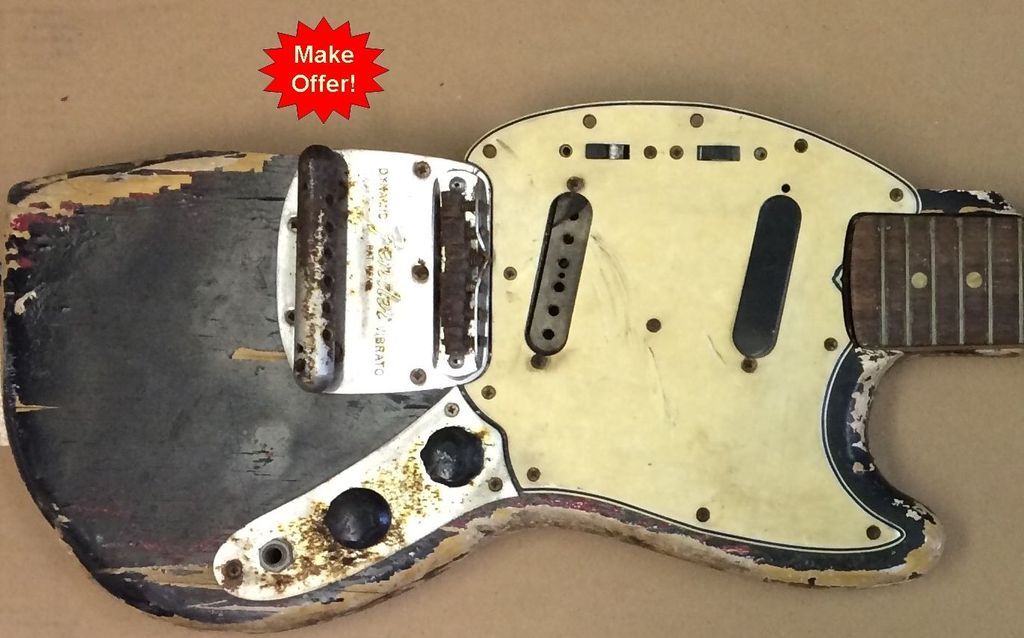 The body was in really awful shape - it looked like it was smashed and then left outside for a couple years. The upper body looked like it just separated at the glue line and went AWOL.
...well, I put the body on my bookshelf, thinking "maybe I'll need a chunk of wood to repair a rout someday." ...then this mutilated Musicmaster popped up on eBay for a pretty low price. I've been looking for a 24" scale neck to put on a 1960 Musicmaster, so I picked it up:
I figured, maybe I'll just clean up the glue line on the Mustang body and graft on the upper bout of the Musicmaster body. The red Musicmaster arrived in the mail, and it certainly looked like there would be no mourning if it were turned into a donor - the edges had been oversanded. ...actually, the whole thing had been oversanded so that it was well under 1.5" thick. There was a crack in the lower bout, and it had been mightily routed-out. ...including a 9V battery hole in the back. Also, the color match is pretty good, but it is totally a refin.
At first, I was thinking about sawing the red body at an angle, to create an extra-wide Mustang body, but then I decided to just bring things into a kinda stock-shape.
...looks like it was used to pound fence posts into the ground
I glued a few of the cracks back together, but there are still some deep checks that will need to be filled. The weathering can't be clamped closed.
Showing their bad sides and worse sides:
I needed to screw a block into the strap button hole to keep this graft from sliding off during clamping. It looked like someone sawed off a big chunk of the upper bout before the rest broke and disappeared.
I've been wanting a table saw for a while, and a guy on craigslist agreed to drop one off for a super-cheap price. It just needed to have rust scrubbed off of all of the exposed metal surfaces! (though, cleaning and waxing a table saw top is pretty gratifying work) Here is the black half of the body after the break was cleaned up:
I lined up the two "bodies" and scribed a cut line onto the red body:
Chop!
Humbucker height screws are too long!
Offset body means there aren't any parallel surfaces for clamping! Arrrrggggghhhh!
I found a grungy Mustang neck that the seller had tried to stain, and then tried to clean with acetone - but it cleaned up okay after scraping it lightly with a razor blade and then a bit of lemon oil.
I'll build it up with Musicmaster electronics and a Mustang trem. ...It seems right for this guitar's split personality.
...I'll post some pictures after I clean up that graft and add the rest of the components.