New 12-string Guitar Day!
Well, I've been dreaming/searching for the last 5 years- watching eBay, CL and so on, and through a post at CharvelSurfcaster.com I finally found someone who had a sunburst (or 'StarGlo' in the catalog) Surfcaster 12. I had never seen one in this finish, so needless to say I was excited when he agreed to send me some photos of this rare find. One look (and about a thousand more afterwards) and I was in love, just as I knew I would be. The owner had picked it up from Guitar Center's used section for a great price, though some of the tuners needed some work. He got the tuners fixed, and a couple months later offered it to me at a very reasonable price- so of course I scrambled everything I had to take him up on it.
She arrived late last week, but it took me a while to get around to taking some photos. Initial play through shows everything to be in great working order, although the SLinky .09s will have to go soon- even though they were just put on. Definitely a bit on the fragile side for my playing. Straight neck, nearly flawless frets, perfectly functioning electronics, nicely yellowed binding & guard, and near-flawless finish! (just one small ding on the top- just north of the sound hole, about 2mm in diameter) The burst finish looks amazing- definitely brings out the Ric side of the heritage, and the flame maple top has just the right amount of depth without getting gaudy.
Serial number puts this one in the earlier days of the surfcaster- approximate date between '92 and '94.
Pics!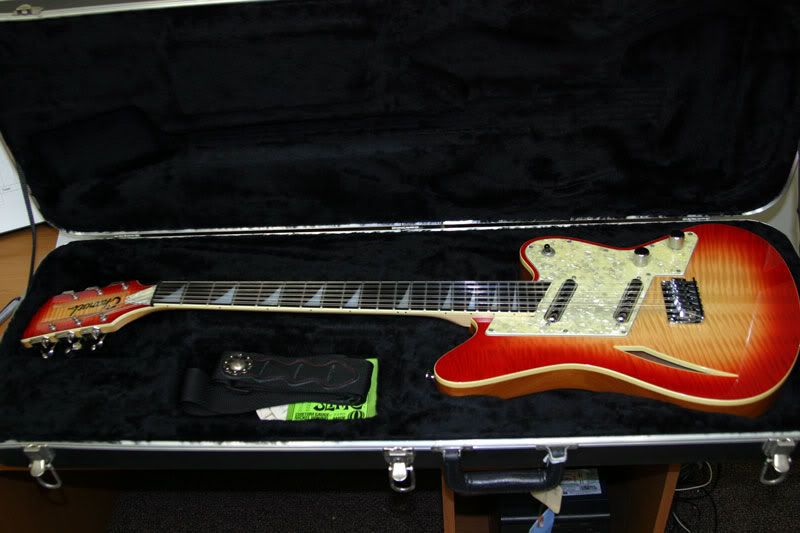 Glad the case was included- It's pretty tough (and pricy) to find one that will fit these well.
She will now join her sister-wives in my harem of Surfcaster12 insanity! One more to go until I've got all the colors this was issued in.
(dang- now I've got to get a new family portrait!)