15 Oct 2012 UPDATE: SG-2 replica finished photos on page 15:
http://www.offsetguitars.com/forums/vie ... 10#p913260
More pics from 2016:
http://www.offsetguitars.com/forums/vie ... 6#p1436085
..............................................................................................
I just had word from PoppaPopp that a whole load of tracings and measurements he's really kindly done for me are on their way from Germany, so I feel like I can open a thread on this one now.
My next project is a replica of this: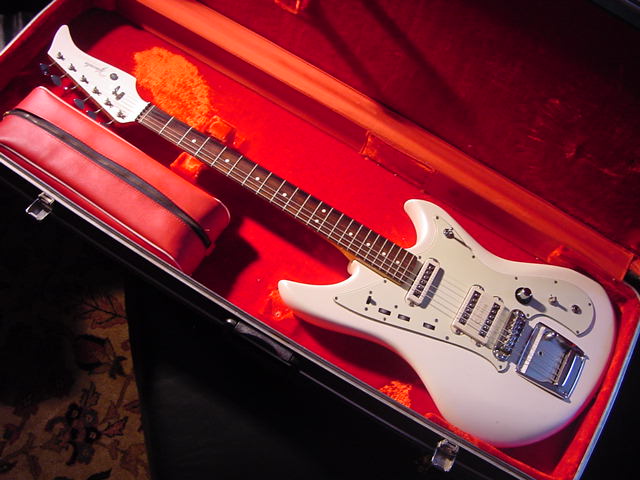 - a Yamaha SG-3.
I thought at first it would just end up being 'inspired by', but Michael has been amazing and took his apart to get me all the tracings I need to make it as close as I can to the original. There will be a few tweaks here and there, but I'm going to stick to the plan for the most part.
This is as far as my drawings have got from photographs - I'll update when I get the tracings and accurate measurements.
I was going to have just three jag pickups with stock covers and claws, but I'm now leaning towards using Shapeways to make some more accurate covers like this:
The way I've designed these means the claws are still there but they slot inside the covers. Peter pickup wizard has wound me a set of three Jag pickups - Bridge and RWRP middle in Alnico3 (to be wired as a variable humbucker), RWRP neck in Alnico5. Amazingly, I got them for what I thought I would pay for just two. Wizard indeed!
Other interesting specs - 25.5" neck, but 22 frets (no overhanging nonsense, though, so it won't fit Fenders) plus a zero fret, and I'm going to sink a spoke truss adjuster into the fretboard at the 21st fret marker - you can just about see it in the picture.
Somehow I need to get the bridge made, either cast or printed ( shapeways can do it, but it might cost a fortune) in stainless steel, and I'll use the innards from a JM trem.
This is the original I'm working to: