Thank you for the positive feedback. I continued to work on my drum sander while waiting for the MOP dots and other items to arrive. I had to realign the table and it's better now. One repair I will need to make in the near future is to replace a brass bushing that keeps the rollers in position.
Here's a photo of the bad bushing.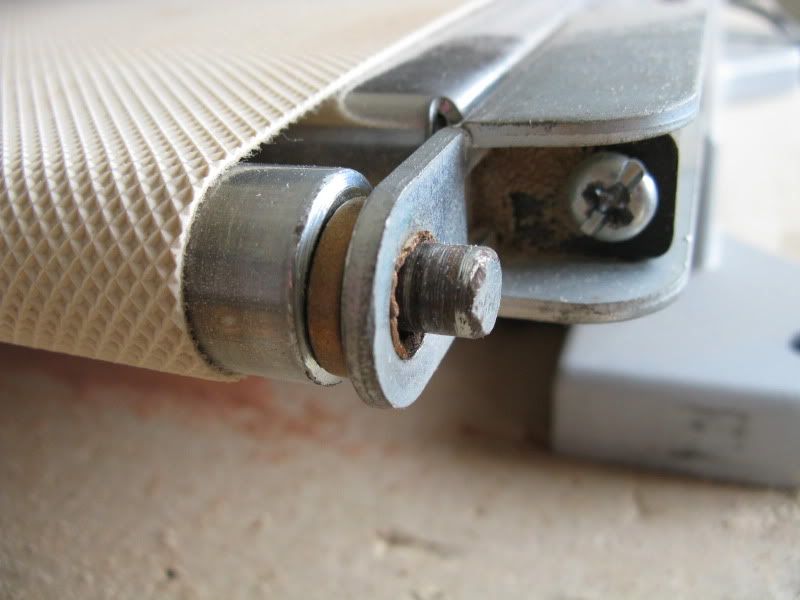 And this is what it's supposed to look like.
I know someone in Taiwan who is helping me get this type of bushing.
ForcedFire wrote:Sounds cool. I know what it's like ordering stuff from the US. I'm in Canada and it really kills you on customs and shipping for every little bit.

Have you thought of a finish yet?
That's a great question! At first, I was thinking of a natural finish with an amber tint. That's still a possibility. I tried some diluted amber stain from Stew-Mac and it looks okay, perhaps a little too yellow. My concern is how the wood would look in a stain.
This is what I came up with. The wood is not sanded as much as it would be when finishing the guitar for real. The wood at the upper right corner is not stained.
I also started thinking about painting the body but having the neck natural. The paint color would be sort of a tan. I guess something like desert sand.