I've been looking for a couple short scale necks at a reasonable (cheap) price. Used Squire Jag necks are about $110 and I would spend WAY too much time stripping the poly off and shooting lacquer or rubbing on tru-oil. I was cruising ebay a couple weeks ago and saw that Eden now has 24" scale paddle head necks in rosewood and maple finger boards for $69 OBO. I grabbed the last maple they had in stock for $65/free shipping: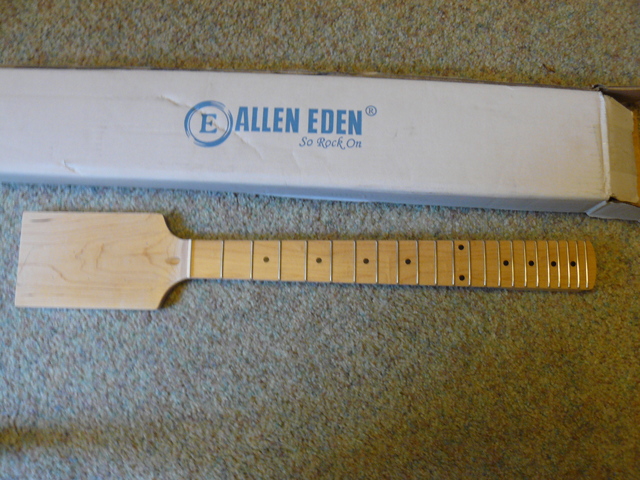 The paddle head won't fit a Fender Jag/Stang headstock without some work- If you lay out the headstock and carefully slice off the unused upper part you could glue it to the bottom and it should fit at least a strat headstock. I'll try that on a rosewood neck in the future.
In this case I'm not doing anything Fender so it works for me, Thanks to Deed_Poll for the design and sending the PDF.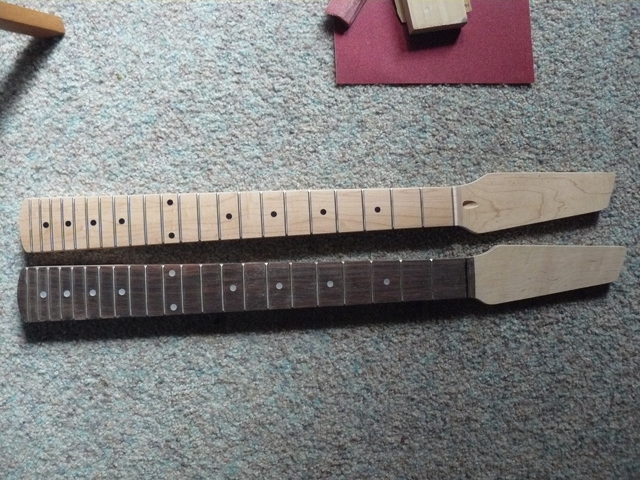 The maple neck will go on this one: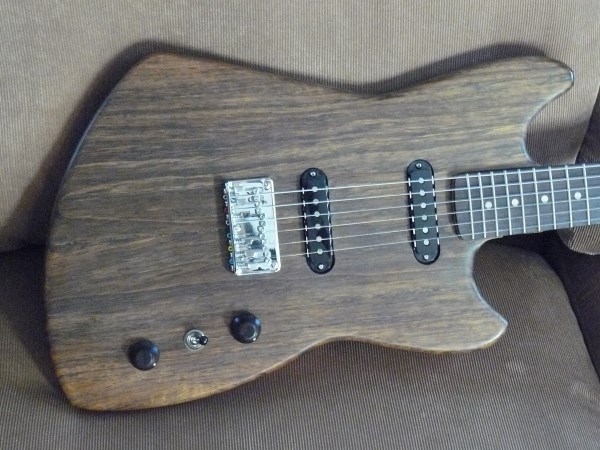 The rosewood is 24 3/4 scale and will go on my upcoming Deed_Poll v2 project.
They need the tuner holes drilled, finish sanding and a few coats of tru-oil and they will be ready to go.
I used an Eden 24 3/4 neck just like the rosewood shown above on Deed_Poll v1 and with a little fret work it's great, it appears Eden's fretwork is improving these don't have the sharp fret ends the previous neck had and they look pretty level-I'll do a quick fret level, re-crowning and polish anyway just to be sure. Oh, the installed bone nut needs a little work too but that doesn't take much time if you have a set of nut files.
I'll post a pic of the guitar with the maple neck in a couple days when I get it back together.
ken