Well actually I picked this one up a couple days before 2020 ended. Saw it in the local ads with "make offer - needs work" and no price. I liked the look but was in no need for another guitar project, so I low-balled and he responded a couple days later and said ok!

It has been sanded (over-sanded in parts) and clear coated years ago - the body only. The neck was mostly de-finished with some black parts/spots left.
Tuners changed to old Schallers (which I usually prefer) and it came in an ancient, probably original (?) cheapo hardcase.
I super glued the binding back on, cleaned and rehydrated the fretboard and put fresh strings on. And now I love it!!!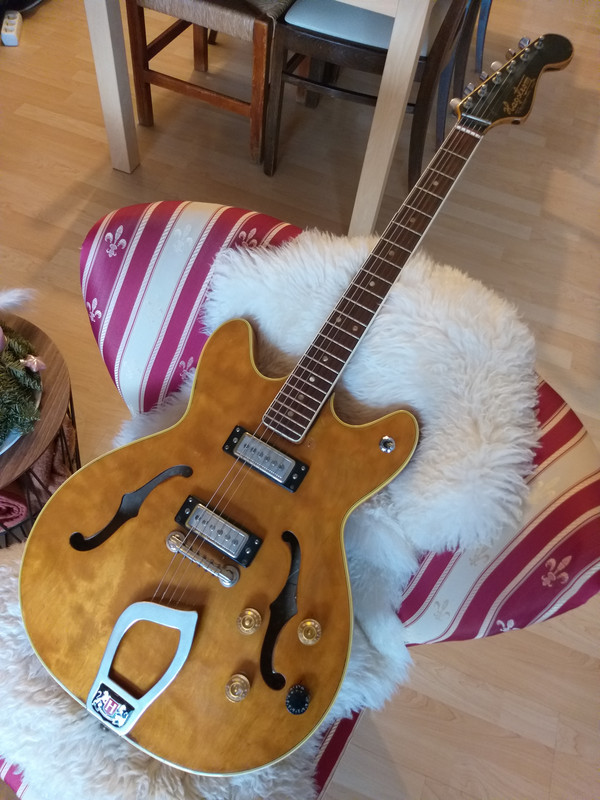 Pickups are loud and chimey, kinda Rickenbacker-ish, and the neck is very very (pencil) thin, but fits my hands like a glove.
Now that was a very unexpected and nice surprise!
I'd only like to find a matching pickguard for it.
The wood has a nice 3-D kinda effect, yet I'm considering maybe having it refinished it in Sherwood Green or old LPB or so, to give it a Coronado kinda vibe.
Anyone else here own and/or like these?
I think Hags are (still) kinda hidden gems, especially these Vikings! (PSSST)