A while ago I started a topic to get some advice about an old Klira Sioux I found at my grandfather's house. He bought it at a flea market a lot of years ago and it was in terrible condition.
It looked like this:
While this is how it should have looked like:
More old pictures in the original topic:
http://www.offsetguitars.com/forums/vie ... ilit=klira
I took it to a local luthier who told me it wouldn't be worth to restore this and just gave me the advice to hang it on my wall. However, I asked him to test the pickups and they still worked, so I decided not to give up so easily. I got in contact with Ohmen here on OSG, who told me he wanted to give it a try, and only lives 45 minutes away from me in tiny Belgium. I immediately knew it was in good hands, Ohmen's collection of (mostly self made) guitars is just awesome!
As it was already pretty heavily modded, the goal wasn't really to make this look like the original. I just wanted this to become a good looking playable guitar again. The neck of the guitar was clearly a total loss, so we decided to replace it with a squier stratocaster neck. I bought a cheap beat up squier affinity strat with a good neck and took both guitars to Ohmen. We decided the orange plastic had to go. Ohmen had some white tolex laying around which would be a good replacement and match the red vynil. The DIN-output had to be replaced by a normal jack. The original bridge, which was basically just a metal bar, was worthless, so it had to be replaced too (by a wilkingson roller bridge). At first the idea was to paint the Squier-headstock black and put the Klira logo back on it, so it would look a bit like the original headstock. But then we got a much better idea. Add a little Ohmen-magic to all that and you get this (pictures by Ohmen!):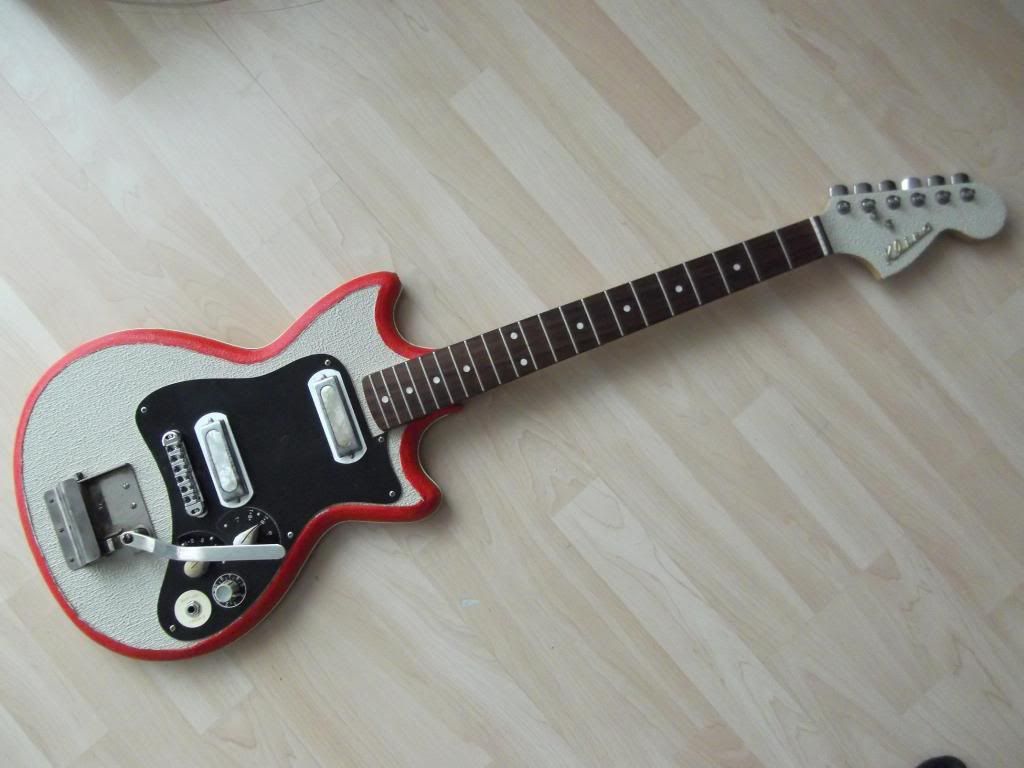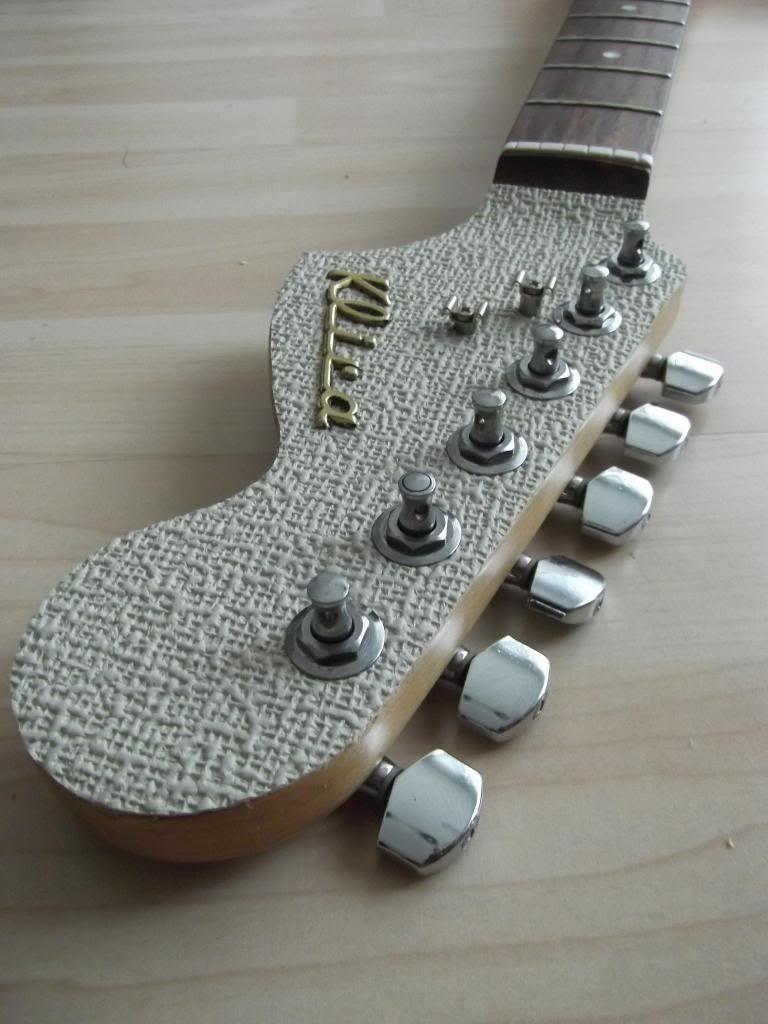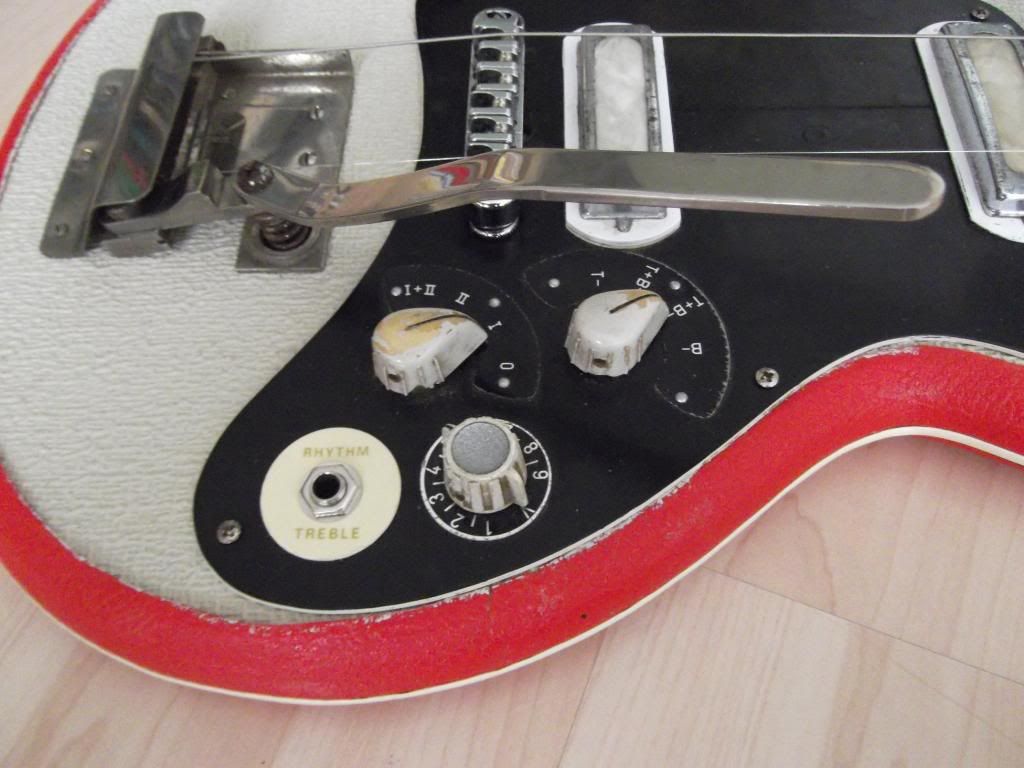 The big 'swimming pool' cavity was filled, so it wouldn't be neck heavy, as the body is really really thin and light.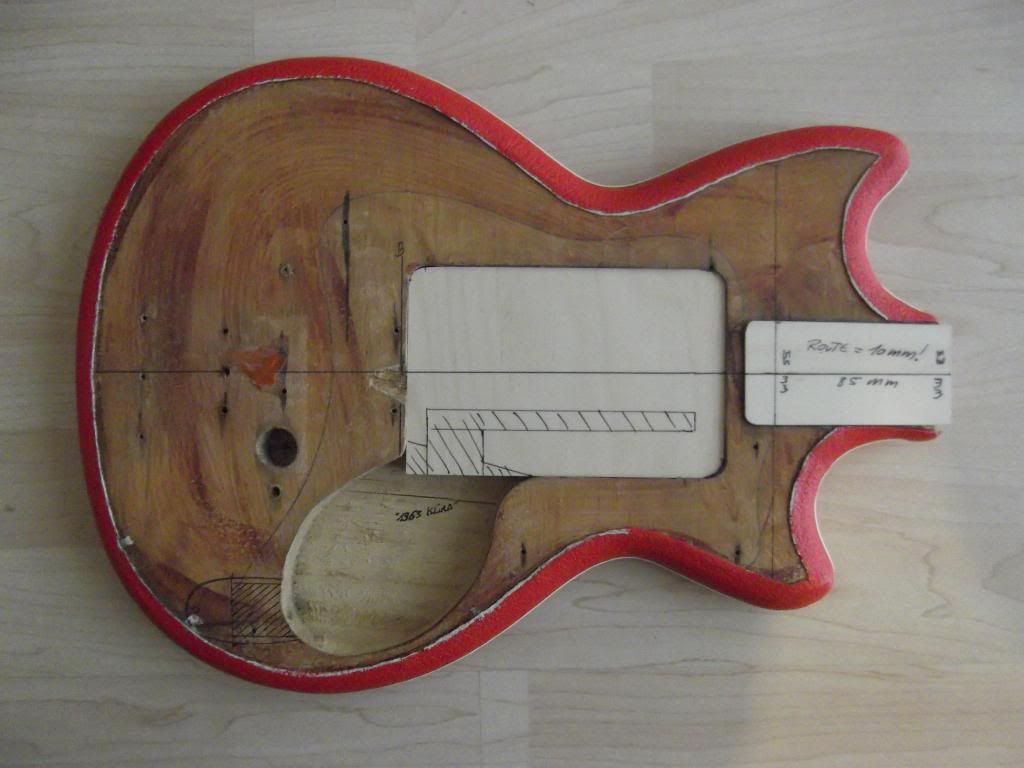 The trem on the previous pictures is from one of Ohmen's guitars. He made a custum one to look like the original Klira trem (sorry for the crappy cellphone picture!):
I went to pick her up today. I couldn't thank Ohmen more for everything he did, all credit for this amazing restoration goes to him. The sound is amazing, the trem is smooth and very musical, love it! And it looks absolutely gorgeous. It's hard to imagine this is the same crappy uggly guitar I found at my grandfather's house.
Lastly, a picture with Ohmen's Hofner. Apparently Klira was just across the street and both guitars were probably made in 1963.